The newly renovated "Studio Bellavista" is located in the same house as our "Dependance delle Grazie" just a few meters from the lively piazza. The interior is furnished and decorated in contemporary and mediterranean style with a few antiques and local art works. From the small balcony and the windows you can enjoy the view of the sea, the beach at the Marina, the castello and stunning sunsets. The Studio sleeps 2 (+1) guests and has an annected garage.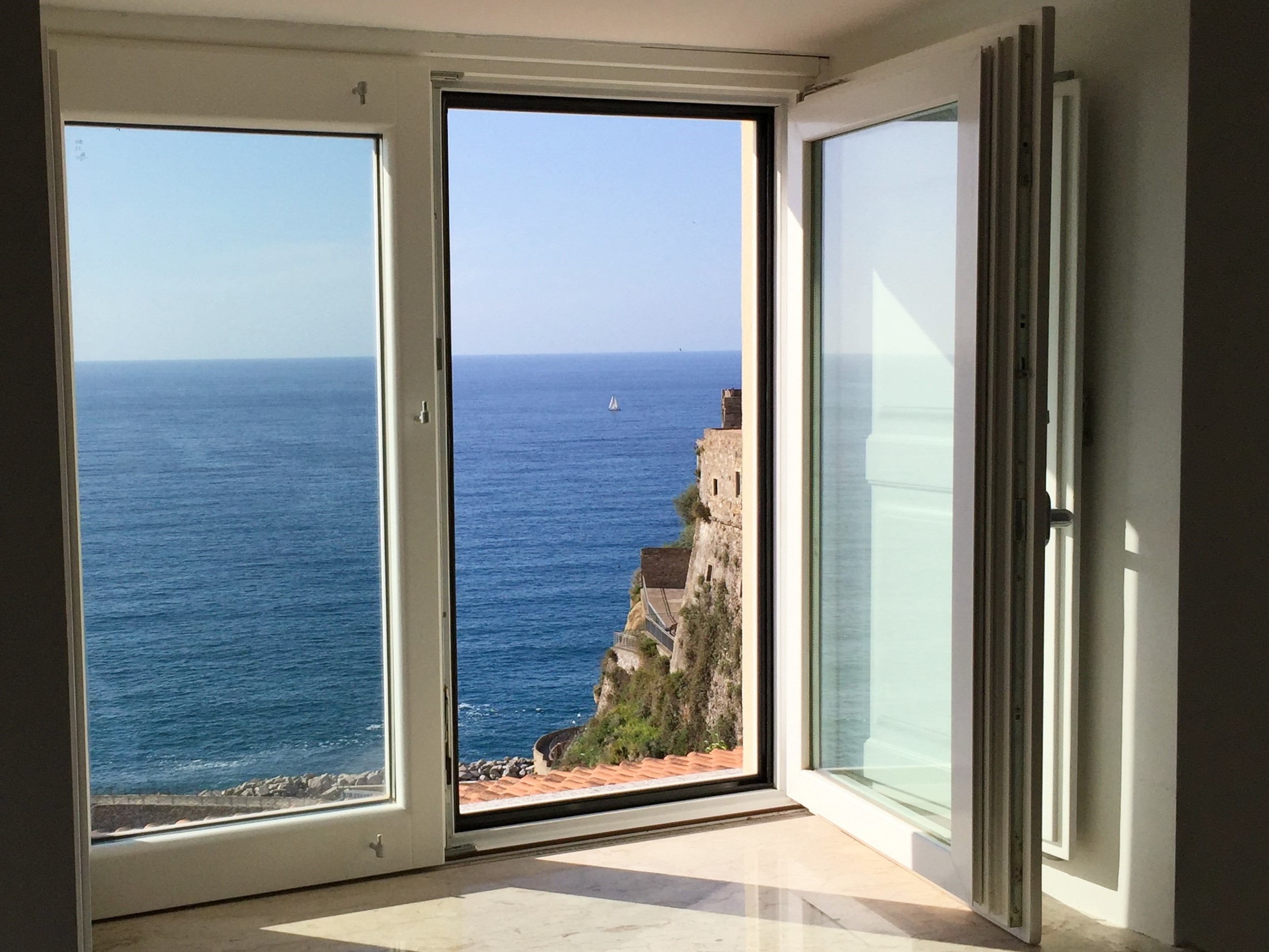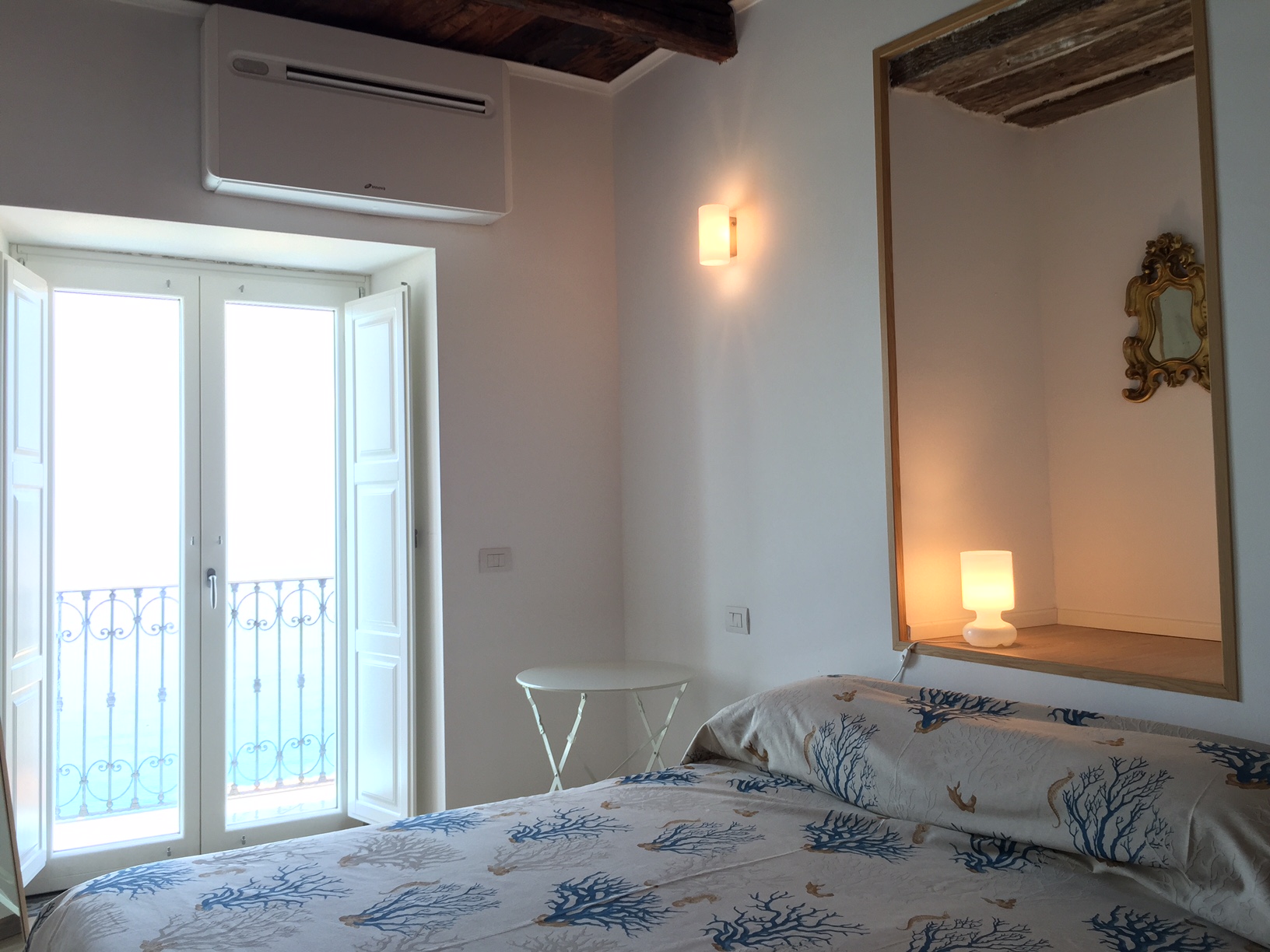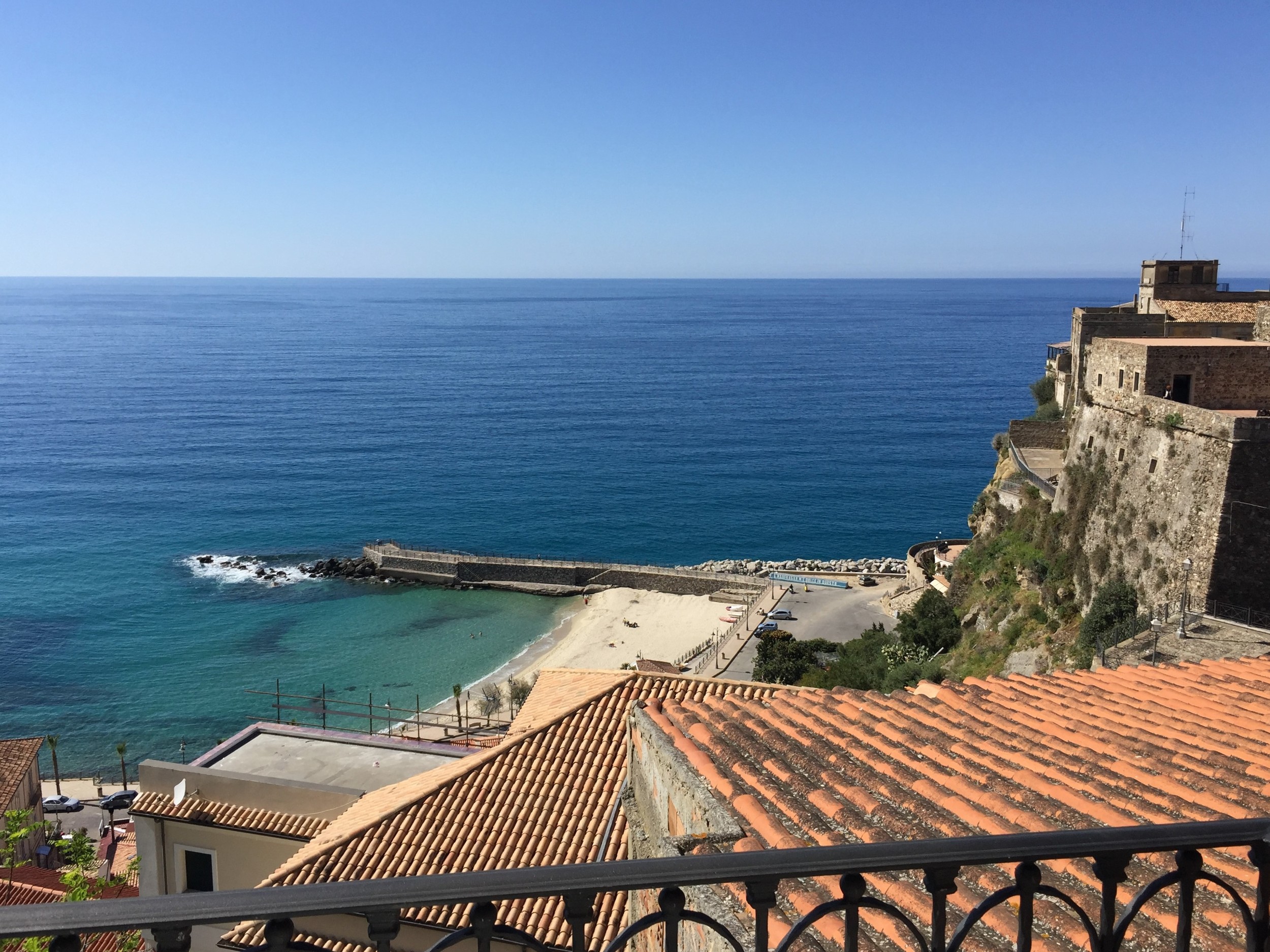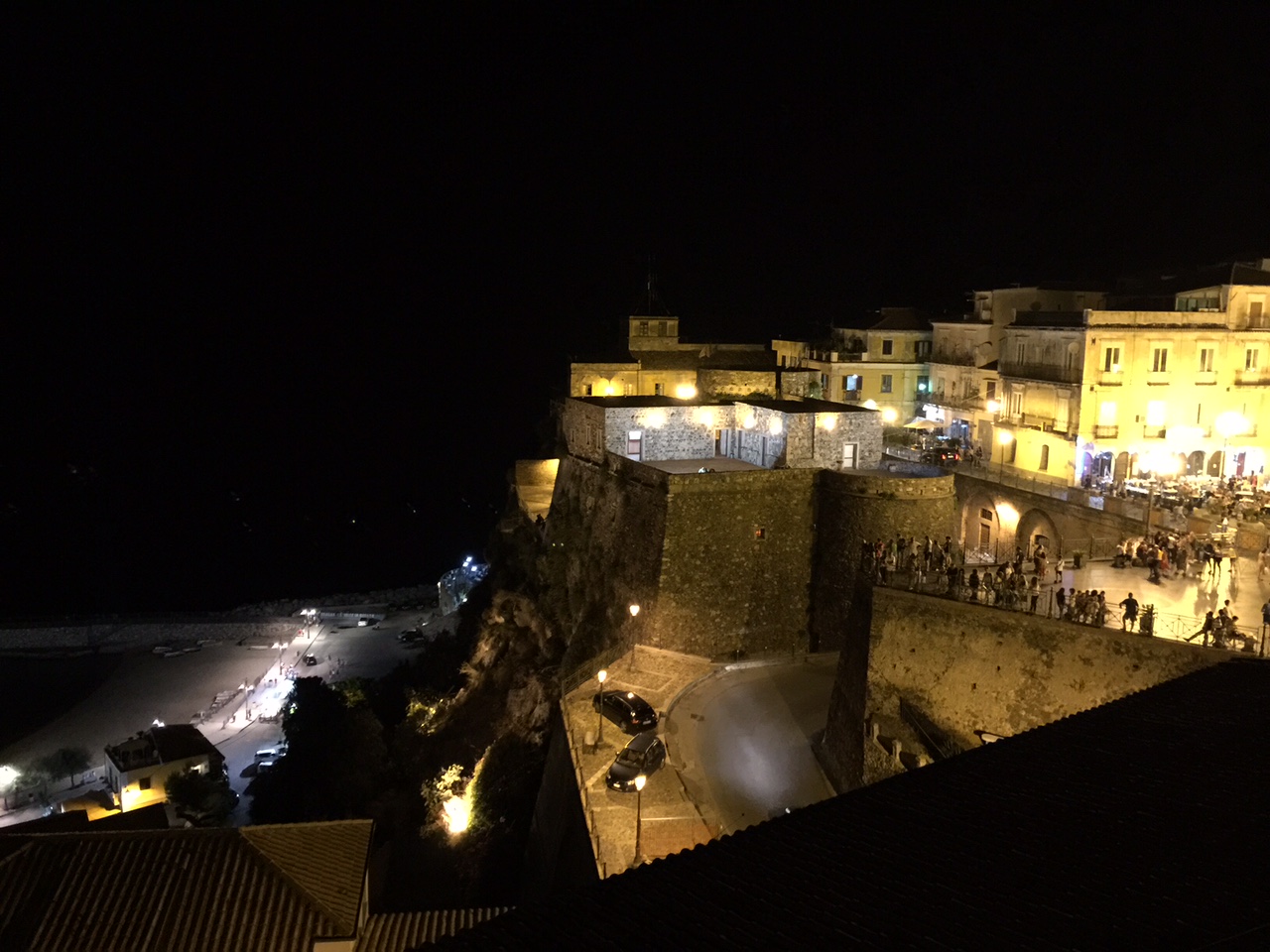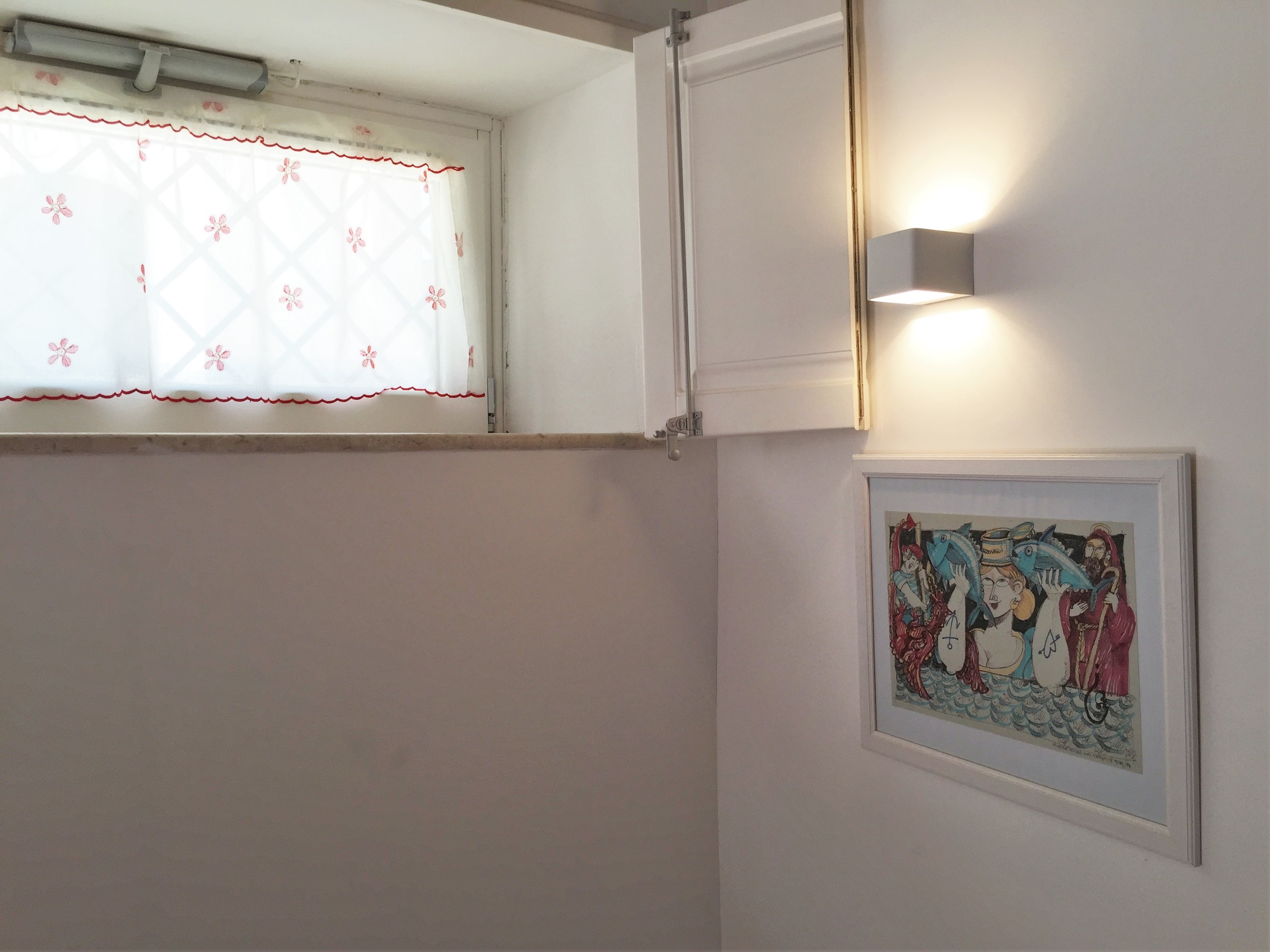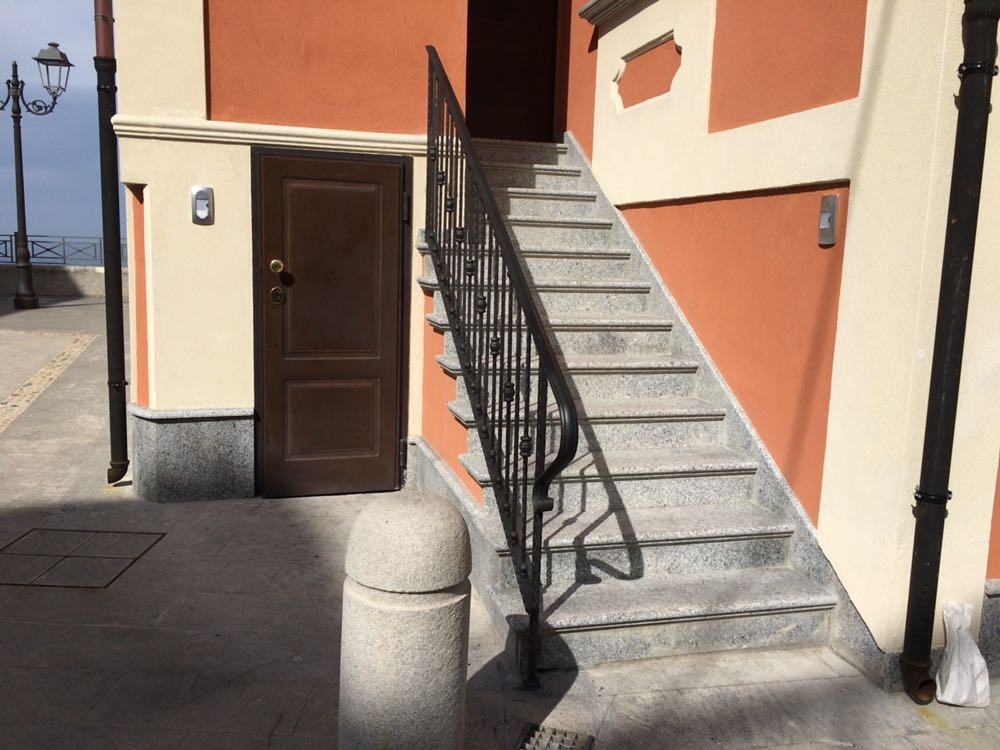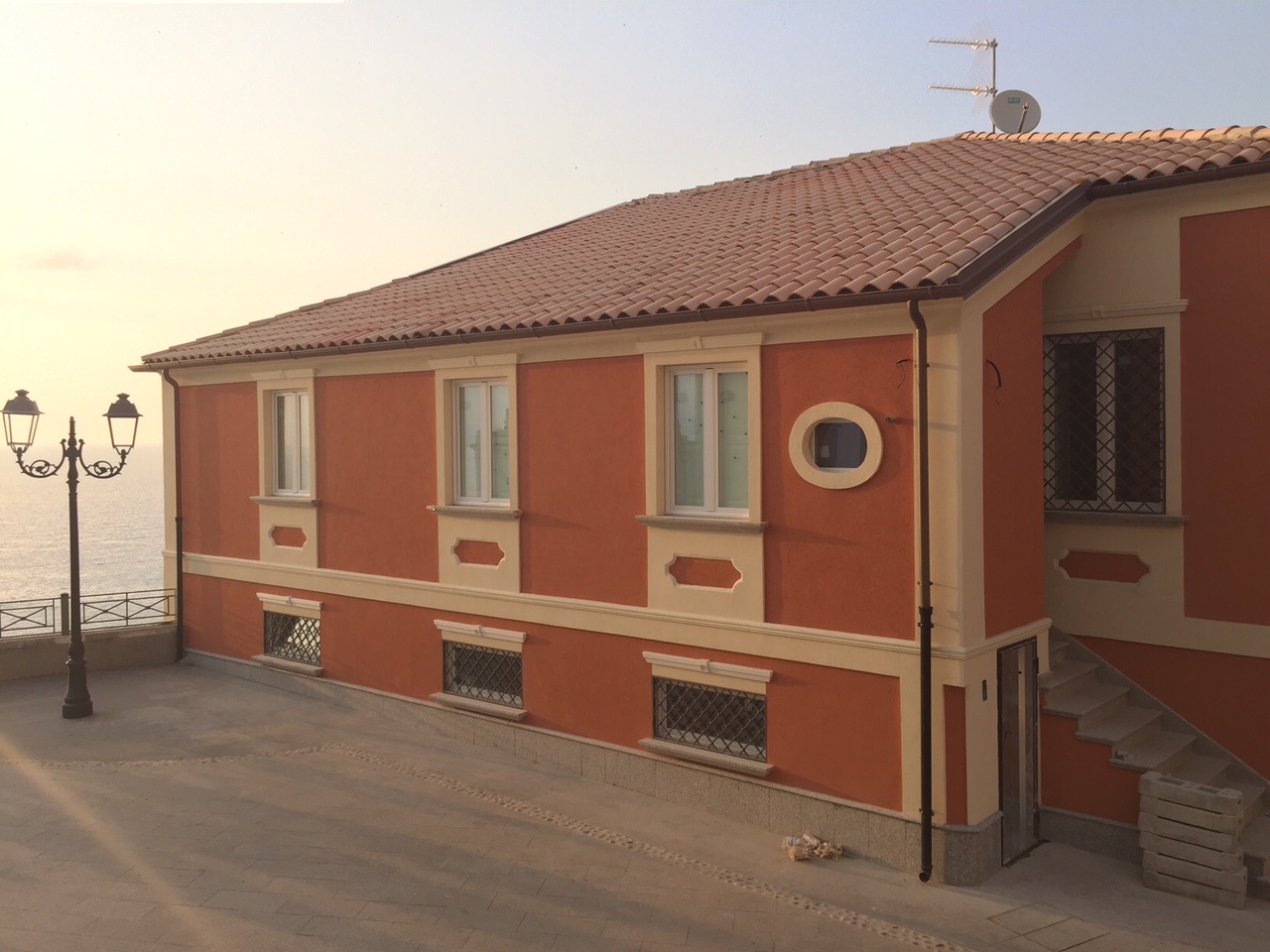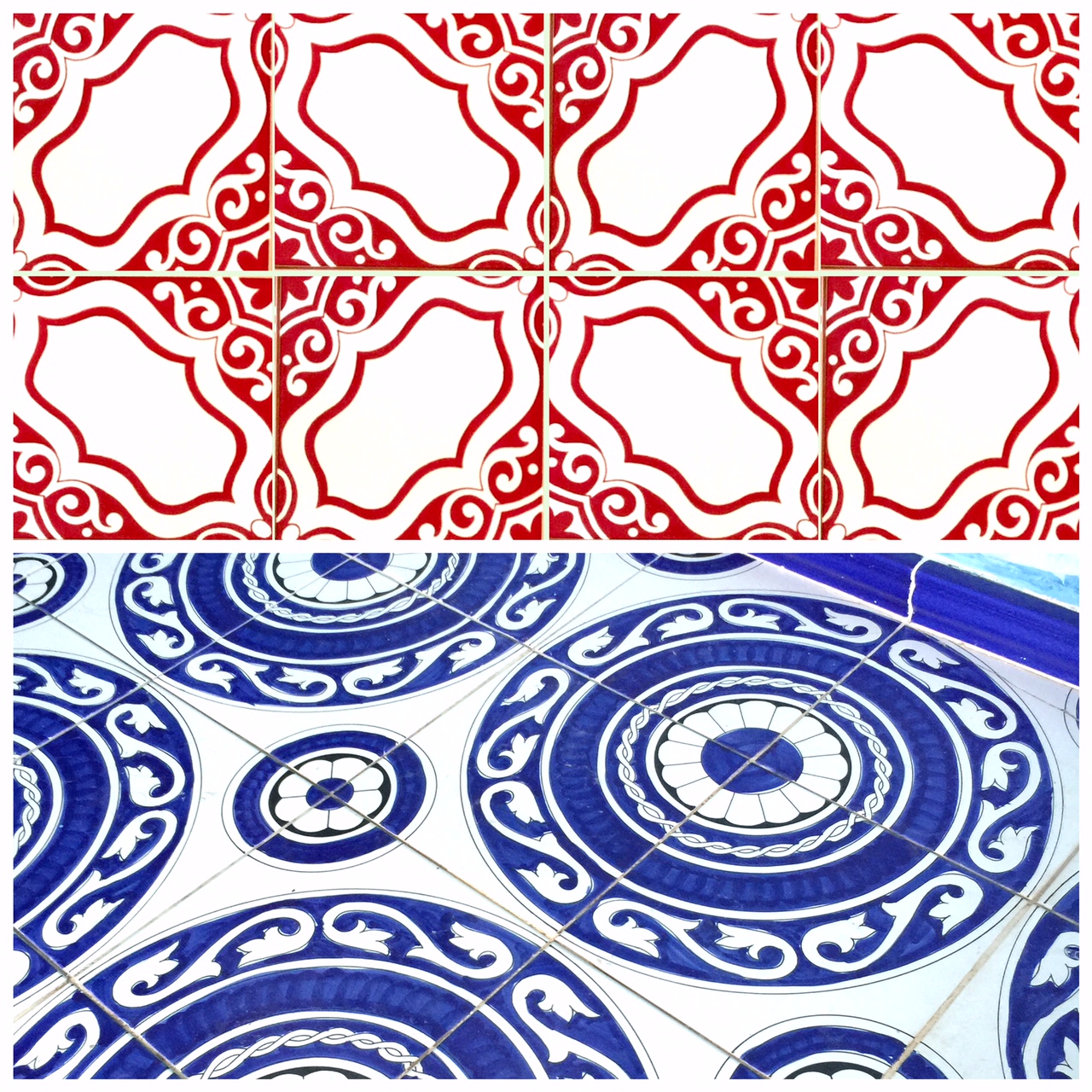 Just a few steps down from the church's square is the 'seminterrato' entrance with a well equipped kitchen. The Studio is only partly souterrain as it opens up with its facade facing the sea, the castello and part of the main piazza.
We call this apartment "Studio" although it has a separate bedroom, becauses initially we considered renting it as an artist's workshop.
In the kitchen and bedroom we preserved the original wooden ceiling and on the small balcony you can enjoy your morning coffee and afternoon aperitivo while watching the sunset.
On clear days you can spot the active volcano Stromboli, which is part of the Eolie island group of Sicily in the Tyrrhenian Sea.
You can reach the studio by car in about 30 min from Lamezia international airport (SUF). The studio is located in the centro storico of Pizzo. The Piazza della Repubblica, the main piazza of Pizzo, is a stone's throw, less than one minute walk away. From the studio to the beach at the Marina it is about 10 minutes walk downhill. Everything you might need during your stay is within walking distance: bars, restaurants, fresh market and shops. You actually do not need a car while in Pizzo. From May to October there are usually "Ape"-taxis connecting the different areas of Pizzo - which are La Marinella, Piedigrotta, Centro Storico, and Pizzo Marina. If you don't like to walk uphill from the beach back home, we recommend the Ape-taxi or to rent a car.
However, if you want to rent a car - also to explore a bit of Calabria - please rent a car at the airport. There is no agent in Pizzo. Scooters could be arranged to be dropped and picked up in Pizzo. If you need a garage please contact us in advance. Our garage has a connecting door to the Studio which is ideal for people with restricted mobility.
From Pizzo you can explore and discover the beautiful Costa degli Dei, the "Coast of Gods" - with its crystal clear, turquoise sea and many different beaches, as well as the many little villages with Greek history, scattered over gentle Calabrian highlands with thousands of olive trees and forests.
The Studio sleeps 2 - 3 persons. Please note, no pets are allowed. The apartment is not suitable for small children younger than 6 years old (window to roof and stairs). No smoking is allowed inside.
We can organise airport / train station pickup service at extra cost.
Please contact us at least 2 - 3 days prior to your arrival to agree on a key-hand-over-time. Check-in is from 15.00 to 20.00. Thank you and see you in Pizzo!
Apartment SPECIFICATIONS
Guests - 2 - 3

Floor plan - 60 sqm / 645 sq ft

Renovation - 2013-2016

Bed Room - 1

Bathroom - 1

Small Balcony

Kitchen - gas stove, microwave/oven, fridge, dishwasher, coffee machine

Type of Beds - 1 queen size bed (160x200cm), 1 sofa bed (140x200cm)

Air condition

Central heating

Washing machine

Garage
AMENITIES
Wifi

TV

Hair Dryer

Bed Linens

Towels (large, medium, small + beach)

Umbrella (for beach)

Basic Amenities: shampoo, soap, toilet paper;

secured parking on premises
ACTIVITIES
Swimming

Snorkeling

Fishing / Sport Fishing by boat

Vicoli di Pizzo (walking the alleys)

10 Churches

Castello Aragonese Murat

Visiting artists' studios in Pizzo

Archaeological Museum in the Castle of Vibo Valentia

Tropea (1/2 day by train or car)

Eolian Islands (day trip by boat)

Stromboli by Night (by boat)

Reggio Calabria & Museo Nazionale della Magna Grecia (day trip by train)

Day Trips to the hinterland (by car)

Wine tasting in Ciro
LOCATION
Airport Lamezia 25 km (30 min drive)

Train Station 'Pizzo' 1 km

Station 'Vibo Valentia - Pizzo' 3 km

A3 Salerno-Reggio 5 km

Nearest Beach 300 m, 10 min walk

Nearest Church Del Carmine 8 m

Restaurants & Bars 50 - 300 m

Grocery & Alimentari 150 m

Pharmacy 200 m

Supermarket (Sidis) 2 km

Hospital Vibo Valentia - 10 km

Tropea 35 km

Capo Vaticano - 50 min drive

Scilla - 1 1/2h drive

Reggio Calabria - 1 1/2h by car or train

Stromboli - full day trip by boat
PLEASE NOTE:
No pets, not suitable for children (below 6 years of age), no smoking inside; check-in 3-8pm, check-out 10 am;
What our guest say about their stay at the Studio:
Read more ...
Want to know more about Pizzo? What to do and where to eat? Check out our Pizzo guide on this website. We will also send our guests an updated guidebook in PDF file via email as well as provide a copy at the residence.
Want to discover more places in Calabria during your holiday? Travelling by car or by train, check out our tips for day trips around Calabria here.
Want to go to a different beach every day? In our "Pizzo guide" there are listed some of the best beaches within 5-30 min drive. The closest beach is a 10-15 minutes walk from the residence, below the castello at La Marina.
Want to know what other guests think about their stay with us? Please have a look at our Guestbook.
Want to get to know our team before arrival? .... read more.
You are interested in our renovation project(s) in Italy? Here you can find a summary and further links.
Want to know what to pack? A light jacket or pashmina could be handy for a breezy evening. Check the weather forecast for Pizzo:
Do you still have questions? Please contact us, we are looking forward hearing from you.